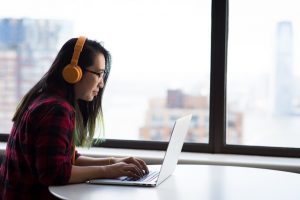 The need for social distancing during the coronavirus pandemic has meant that as many as one in four of us now work remotely. Of course, the need to communicate effectively is still incredibly crucial, and video conferencing has played a vital role in ensuring working teams are all on the same page – even when members might be hundreds or even thousands of miles away from one another.
While we're all hopeful that vaccines and drug therapies will offer a way out of the pandemic in the near future, it looks like video conferencing is here to stay. Many companies have reported increased productivity since switching to the work-from-home model, although this can largely be dependent on the efficiency of individual remote working setups.
With this in mind, we've prepared ten tips to help you improve video calling during the Covid-19 era:
Ensure you have a fast, stable internet connection
Internet speed and reliability goes a long way to ensuring your video calls go smoothly. Although we are used to living in a wireless world, it can be advantageous to use a LAN cable from your laptop directly into your WiFi router to guarantee signal stability.
Give each member time to speak
Video conferences can become challenging when there are large numbers of guests all taking part. To get more out of your online meetings, exercise patience when others are speaking, and hold out for a couple of seconds before offering your opinion. This way, you're acknowledging that the current speaker may not have finished, and demonstrating that you're listening intently.
Perform a soundcheck
Be wary of how your microphone sounds to the other users in the conference. Most video call software will allow you to preview your audio output and provide you with options to adjust your volume accordingly. If your microphone is turned up too loudly, this causes the audio to "clip", resulting in distortion and feedback which can be uncomfortable for others to listen to.
Dress to impress
While we're not suggesting you need to get suited and booted to video call your grandmother, several studies have concluded that what we wear can affect our productivity in the workplace. Looking smart also sends out a signal to clients and colleagues that you mean business.
Schedule meetings in advance
Connecting your video conferencing software to your schedule app or calendar will allow you to arrange meetings well in advance. This means no excuses for no-shows, and keeps productivity high. If you have a team huddle at the same time each week, create a recurring meeting to save yourself the admin of having to do so repeatedly.
Record your video calls
While this might seem intrusive, there are many practical reasons to record your video calls. Recording allows absent team members to catch up with what has been said, and allows you to review ideas and suggestions that might otherwise have got lost in the ether.
Screen share and annotate
Screen sharing can be useful when discussing visual materials like designs or technical information such as graphs or charts. All good video software will allow members to annotate on-screen, too. This lets everybody pitch in with their ideas in visual form.
Use the waiting room option
Zoom has a feature that allows attendees to join a video call prior to the official host being present. This allows users to have a few minutes to chat before the proper meeting begins. This can help reduce non-pertinent conversation mid-meeting.
Learn keyboard shortcuts
If you regularly use video call software, there are some handy keyboard shortcuts that can save you some valuable time. For example, on Zoom, you can use the M key to mute (Cmd+M on Mac, or Alt+M on Windows). This allows you to quickly mute conversations if needs be – something which Jackie Weaver might have found useful.
Minimise any distractions
Before hosting a meeting, turn your phone on silent, ensure there are no background sources of light that might distract other participants, and let other household members know that a meeting is taking place. You should encourage all other team members to do the same.
Conclusion
Whether you like it or loathe it, it looks like video conferencing is here to stay – for the time being, at least. By keeping these tips in mind, you should be able to increase the efficiency of your online meetings and avoid some of the most common problems in the work-from-home era.